Sierra Newsletter Spring 1989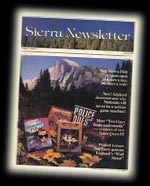 This exciting edition was released just after the completion of Space Quest III. Of course this is why this magazine is full with Space Quest related articles. The entire magazine can be viewed and downloaded from the following site: http://sierra.icequake.net.

has gathered all the Space Quest related articles of this issue for you below.
An interview with Bob Siebenberg: From Supertramp to Space Quest III - complete
by Kirk Green
For someone who has seen the heights of superstardom in the rock band Supertramp, Bob Siebenberg is a pretty down to earth guy. He gets up every morning and is at work in his home studio by 9:00am and works till early afternoon when he heads out to a local baseball field to coach little league.
"Hey my greatest day is working in the studio and then heading out to baseball practice by 4:15pm", said Siebenberg.
Married, with two children, the 39-year old Siebenberg has worked in his ranch home studio over the past few months on the soundtrack for Space Quest III: The Pirates of Pestulon for Sierra. We spent some time with him recently, after he finished putting the final touches on his new solo album, to see how he became part of the Sierra family.
Most people are surprised when they hear the drummer for Supertramp is producing a musical soundtrack for a Sierra 3-D Animated Adventure Game. How did you become involved in the project?
There was an advertisement in the paper.
No, really.
Yes, I was reading the Sierra Star (a local paper) and there was an ad for some one who knew how to work with MIDI. I had just come off the Free As A Bird tour with Supertramp and I was looking for something new to get involved with. I met with Rick Cavin (Sierra General Manager) and right away he realized I wasn't the nine-to-five guy he was looking for, but on the other hand there might be something that I could do - write music for some of the new games.
So one thing led to another and soon you were writing a soundtrack for Space Quest III.
That's right. I got some equipment from Sierra: a Macintosh, a Mastertracks Pro and the Roland MT32 and used it with my own equipment. That includes MIDI keyboards, my 24 track Otari tape deck, and a Neotek recording console. I do most all of my work at home in my own studio. Over the years I've spent so much time away from my family - that is why I moved up here, to be able to work and spend time with my family. In fact my last solo effort was completely recorded at home.
How does the whole process unfold when you are working on music for a game? Where do you start?
I like to start with the image. The creators, Mark Crowe and Scott Murphy, give me a VHS cassette of what the games looks like. I pick their brain about what a certain character's personality is like. The music should enhance the personality. Then I just put in the time writing and producing. I look at the game as a little movie and the music as the soundtrack for that film. It is challenging to come up with something like that. Mark and Scott want in the way of music. The feel of the music, rather than simple melodies, using the Roland MT32, Ad Lib or IMB music cards adds a vibe to the whole screen.
Some of the music on Space Quest III is very beautiful, on a level of an epic film score. Then you have music such as "Fester's Theme", which is light and funny. Where do you draw your ideas from?
I just pull it out of thin are in a sense. I just put in the time needed to produce the music. Something I tried to achieve with Space Quest III is to expand the size and dimension of the game with music.
Hoe does work on Space Quest III differ from your solo album or work with Supertramp?
Working in the band (Supertramp) you have four or five people and I'm part of that band. For my solo projects and working on the soundtrack to Space Quest III, it is down to me. There are no short cuts, it is just me putting in the time producing the music. With the game music I can be a little goofy, like with "Fester's Theme", that wouldn't work in my solo projects.
Sierra has had William Goldstein and you write and produce music for our games. Do you see any of your fellow musicians doing similar projects?
Some of the people who worked on my solo record thought that the graphics and music was a great concept. I'm sure there are people who would want to jump on it, but I still want a job too! (laughing)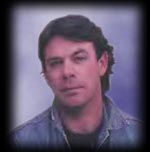 You've talked a lot about this new album you have been working on...
Yes, that is "Long Shot", an album I've done with a band I formed with Dennis O'Donnell called Heads Up. For right now it is being released in Germany on Polydor Records. Germany is actually the second largest market for music in the world. So we'll see how it does and eventually we might release it in the UK and the US. The album has lot of keyboards and new sounds different keyboards, but it is not computerized. We've got Reno Wilde doing lead vocals, Scott Gorham from Thin Lizzy on guitars and three members of the Supertramp tour band playing on the album. It has got a Procol Harem feel to it and we had John Punter, who worked with Procol Harem, produce the album.
How about Supertramp?
Supertramp is still together technically. Sometimes when you are with a group for a long period of time you want to branch out and get away from the pressures that are part of the band. Then when you've spent some time away you appreciate the different things that made up the band. I would like to hope that someday the five of us (Supertramp) would get together again.
So what is in store for Bob Siebenberg in the coming year?
Well I hope to do more for Sierra. I enjoyed working on Space Quest III. I want my solo work to do well and I'd like to win the 13-year-old All Star Division in little league.
Sounds like Bob Siebenberg has the best of both worlds and has his priorities straight.
Top Ten Best Sellers from January - March 1989 - complete
Somewhere in the Sierra Newsletter Spring 1989 edition, you can find Sierra's Top Ten Best Sellers from January - March 1989:
1. Space Quest III
2. Silpheed
3. Leisure Suit Larry II
4. King's Quest IV
5. Police Quest II
6. Manhunter
7. GoldRush!
8. Leisure Suit Larry I
9. Helicopter Simulator
10. Thexder
Sierra BBS Has Space Quest III Demo - complete
Sierra released a Space Quest III demo, and an article in Sierra's Newsletter Spring 1989 to advertise it:
Space Quest III: The Pirates of Pestulon is Sierra's hottest new animated adventure game. If you would like to see the game before you buy it, you can download a demo from the Sierra BBS. This demo is currently on-line for both the MS-DOS machines and Atari ST series with other machine versions to follow. If you would like to download the Space Quest III demo:
Access the Sierra Bulletin Board with your Hayes Compatible Modem. The phone number is (209) 683-4463. From the main menu, select 3 (Library of Files). You will then Select a LIB (which stands for Library Information Bank) where our files are stored. The demos for downloading are stored in the following LIBs:
>> MS-DOS, select DEMOS
>> Atari SI, select ATARIST
Select the file you want to download. Type D for download, and you will be prompted to input the filename. The file name for the Space Quest III demo is SQ3DEMO.ARC. Select the protocol you wish to use. We suggest that you use XMODEM or YMODEM protocol, depending on the baud rate of your modem. Select the download option from your terminal. The data that you receive will be in a compressed format. If you do not already have access to a file decompression program, you can download a decompression program from the Sierra BBS. For MS-DOS the file decompression program is UNARC.COM and for the Atari ST is is ARC.TPP. Download it the same way you downloaded the Space Quest III demo. Instruction for UNARCing are included with the ARC manager.
Run the INSTALL program and select the type of music and graphics card (if applicable) you have. You will then be enjoying the demo brought to you by The Two Guys from Andromeda. We hope you enjoy it.

Advertisement - complete
This is a very funny ad for Space Quest 3. Click on the picture for a high resolution version (254 KB).

Space Quest III The Men Who Designed the Game - complete
This large interview (a whopping 4 pages!) tells us everything about how Scott and Mark worked back in the old days.
Page 1 (160 KB)
Page 2 (248 KB)
Page 3 (236 KB)
Page 4 (176 KB)
The Golden Oak Awards - complete
The Space Piston Magazine comic book which came with Space Quest II won an award! "Sierra On-Line won top honors in five categories, including two major victories, at the 11th annual presentation of the Golden Oak Awards. All of the winning entries were produced in-house by Sierra's Creative Services Department." Read the complete article here (96 KB).
The Sierra picture contest! - complete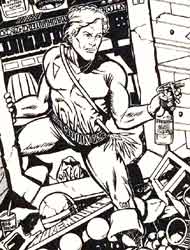 A picture is worth 1000 100 62 words!
Roger Wilco is stalking through this thrashy scene from Space Quest 3, and you must help find names, places, objects, etc. hidden amidst the debris! Look carefully... These words are backward, forward, upside-down, sideways, or any other twisted way we could fit them in! There are 62 words in all from various Sierra games, and 25 of 'em are from the new Space Quest 3. (Note: Compound words count as only one word, for example "CONEY ISLAND, BIG BELCHER"). Good luck!
Be one of ten lucky winners and receive a Sierra software product of your choice. Mail a numbered, alphabetical list of the names you found to Sierra On-Line, Box 1103, Oakhurst, CA 93644, Attention: Picture Contest. All entries must be postmarked before July 31, 1989; only one entry per household. Ten winners will be drawn randomly from the pool of correct entries. Winners are chosen at the sole discretion of Sierra On-Line. In the event you are a winner, be sure to include your name, address, phone number, choice of product, AND your type of computer.
Click on the picture (217 KB) for the complete high resolution scan. I hope all the words are still readable. I've found 15 Space Quest related words. The rest is up to you. Mail me if you find a word, and tell me the location! Words found and by who:
01. 2 Guys (Frans)
02. Andromeda (Frans)
03. Android (Frans)
04. Astro Chicken (Frans)
05. Big Belcher (Frans)
06. Elmo Pug (Frans)
07. Fester (Justas)
08. Janitor (Frans)
09. Monolith (MikeDiskett)
10. Nukem Dukem (Frans)
11. Ortega (Frans)
12. Orat (Frans)
13. Orium (Immo)
14. Pestulon (Les Anderson)
15. Phleebhut (Frans)
16. Roger (Les Anderson)
17. Scumsoft (Frans)
18. Sariens (Frans)
19. Terminator (Les Anderson)
20. Vohaul (Les Anderson)
21. World O' Wonders (Frans)
22. Wilco (Frans)
23. Xenon (MikeDiskett)
24.
25.

26. Advice (Les Anderson)
27. Arnie's Restaurant (Les Anderson)
28. Coney Island (Les Anderson)
29. Cobra (Les Anderson)
30. Cotton Cove (Alistair)
31. Daventry (Ralkahn)
32. Gazebo (Les Anderson)
33. Grotesque Gulp (Les Anderson)
34. Gold (MikeDiskett)
35. Goon (Ralkahn)
36. Gwydion (Kyle)
37. Indian (Alistair)
38. Jessie Bains (Les Anderson)
39. Keith (Les Anderson)
40. King Graham (Les Anderson)
41. Larry Laffer (Les Anderson)
42. Lolotte (Alistair)
43. Lytton (Les Anderson)
44. M.A.D (MikeDiskett)
45. Manhunter (Les Anderson)
46. Marie (MikeDiskett)
47. Motherlode (Kyle)
48. Mummy (MikeDiskett)
49. New Work (MikeDiskett)
50. Ogre (Les Anderson)

51. Onklunk (Les Anderson)
52. Pan (Les Anderson)
53. Rosella (MikeDiskett)
54. Talisman (Ralkahn)
55. Unicorn (Les Anderson)
56.
57.
58.
59.
60.
61.
62.
63.
64.
___