Tim Loucks 3D Art
Tim worked on the Space Quest 7 project as 3D artist just before it got axed. His job was to make graphics for the game based upon Richard Powell's design sketches. The two worked closely together, but sadly only for a very short time. And as you can see below, he wasn't able to do much for the project. Never the less, he sure did some excellent work, even for today's standards... In a cartoonish sort of way.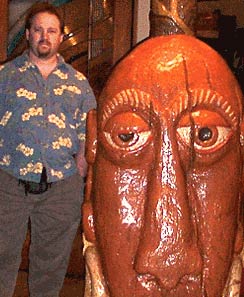 Howdy. My name's Tim Loucks. I'm the smaller head in the photo there. I was born & raised in Concord, California, an east bay suburb of the San Francisco area. After high school, I attended nearby Diablo Valley College before tranferring to CSU Hayward, where I majored in art. I now reside in Southern California with my girlfriend, Barbara. We live in perpetually sunny Santa Monica, nestled between Venice Beach and Malibu.
Since graduating from CSU Hayward in the early 90's, I've spent nine years in the computer gaming industry developing both online & retail entertainment software. I've done a little of everything from concept & character design to 3d modeling, animation and interface design for industry pioneers Sierra Online & Berkeley Systems Inc. I still enjoy working on my own art, mainly colored pencil drawings of pop culture icons that interest me.
I subsist mainly on cheese crackers & beer and wear out approximately 2.3 Raiders' caps annually. I'm startled by loud noises but can easily sleep through most earthquakes. I don't have a favorite color. My earlobes are of the dangling variety.
___