Space Quest 4 Design Sketches
Only a handful of the two hundred or so design sketches made for Space Quest 4 survived the hands of time. Some of these sketches look the same as in the real game. Sketches from Zondra and the Super Computer Complex, though, are very different. This gives us an insight of what the art designers were up to, which ideas made it into the game, and which ideas were trashed.
All characters and objects were first drawn down on a so called Character Sheet (or fact Sheet) (50,6 KB). These sheets made it easy for the people who were working on the game to exchange ideas more efficiently and keep track of them in a orderly fashion. All the sheets would eventually make up a huge document, containing all the information and descriptions about the characters and objects of the game. Space Quest 4 was the first Space Quest to use those sheets.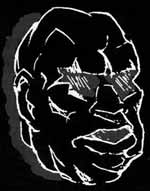 Beatrice Wankmeister (49,4 KB)
Ship of the Latex Babes (28 KB)
Monochrome Boys (57,3 KB)
Roger Wilco (31,6 KB)
Roger Wilco Sr. and Jr. together (47,4 KB)
Seaslug (33,7 KB)
The Super Computer Complex (51 KB)
Sludge Vohaul (48,7 KB)
Zondra (41,9 KB)
___